Rawcliffes offer you the best way to purchase secondary school uniforms in Hull and the surrounding areas.  Rawcliffes offer unrivalled expertise, knowledge and support.
Making Uniforms to Last
To ensure that the Rawcliffes secondary schoolwear you buy looks good, wash after wash, we reach and maintain the highest standards of quality. We give close consideration to garment production during each stage of the design and construction process by only working with ethical suppliers that can achieve our high manufacturing standards.
Stringent Testing
You can be assured that before full production, a garment goes through meticulous characteristic testing such as garment stability, colour fastness and seam strength. All new products undergo a rigorous sampling process until they achieve our satisfaction. Our suppliers have dedicated overseas offices located close to the supplying factories to ensure that our garments attain the highest grade of quality, giving you an assurance of excellence.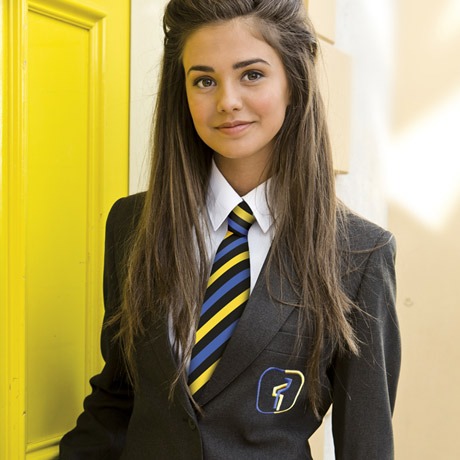 Blazers
Rawcliffes supply the finest school blazer collection, with exceptional quality tailoring, innovative and contemporary styling, unique features and precise detailing. Polyester twill blazers are also manufactured using an innovative recycled outer blazer fabric 're-vive', which is made from certified 100% recycled post-consumer polyester yarns. This means our blazers are helping towards protecting our planet for future generations.
Bespoke Blazers
Use Rawcliffes extensive design options to create a completely unique bespoke blazer to represent your school. Choose from a number of different styles, including the option to add a removable and reversible inner gilet. Then select from a range of blazer colours, including inner lining colours and embellishment options such as the addition of braid, cord and embroidered badges, all of which work to create a unique identity for your school.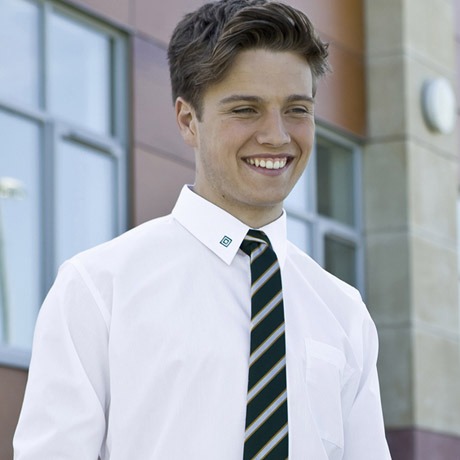 Shirts & Blouses
Rawcliffes strive to tailor all shirts and blouses to last. Attention to detail and the finest fabrics are key to their comfort and durability, and every shirt and blouse is easy to wash with minimum or no ironing needed.
Bespoke Shirts & Blouses
Create quality bespoke shirts and blouses from a wide range of bespoke designs featuring different fits, neck styles and contrast coloured inner cuffs and collars. Once you've chosen a unique style, Rawcliffes then have an extensive range of fabrics and colours to choose from. These range from a number of plain colour options to check fabrics, printed stripe fabrics or woven fabrics. Rawcliffes can also develop a bespoke fabric just for you, please note lead times and minimums will apply. Rawcliffes also offer a range of bespoke sizes outside of our standard sizing matrix as well as embellishment options including badging and contrast piping on collars.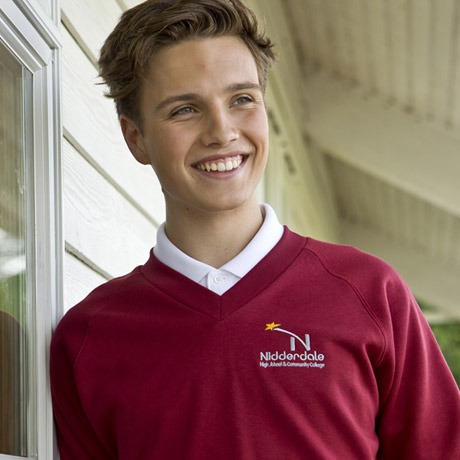 Sweatshirts & Polo Shirts
Piece together your perfect colour uniform
Matching colours can be difficult, but with so many different colour matches and combinations across our sweats, polos and jogging pants range you can easily achieve your ideal uniform. We know from experience that creating perfect colour matches to complement a school's uniform isn't easy. That's why we've designed our entire range to precisely match, so you can piece together the right uniform for your school. Plus, all Rawcliffes products are tested for quality colour fastness, wash after wash, keeping your uniform looking smart and consistent throughout the year.
Badged Sweatshirts and Poloshirts
Create your own badged uniform from our sweatshirt and poloshirt range. Choose your choice of embellishment from embroidery or screen printing options to provide a unique uniform design.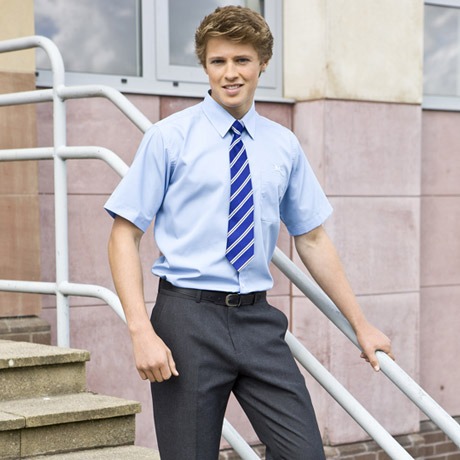 Boys Trousers and Shorts
Children come in all different shapes and sizes, so finding the perfect trousers can be hard work. That is why Rawcliffes make it easy, with trousers to fit every boy. Rawcliffes have a number of different fits available with some styles featuring internal waist adjusters and elasticated backs.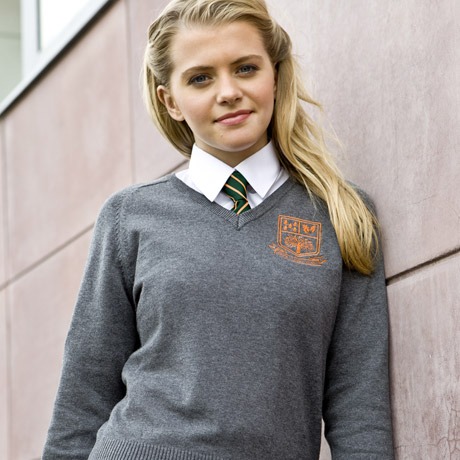 Knitwear
Rawcliffes put time and devotion into making our knitwear the best you can buy. The finest yarns with the purest of natural fibres, retains warmth and feels soft and gentle against skin. Rawcliffes 100% cotton knitwear is also hypoallergenic and dust mite resistant, making it perfect for sensitive skin. As for durability, you would be surprised that a garment so soft would be so well wearing. Wash after wash, wear after wear, pilling is kept to a minimum and the colour remains strong and true. This is important so all uniform looks the same, whether it's brand new or a year old.
Bespoke Knitwear
Create a bespoke knitwear that is completely unique. Choose from a range of 8 different knitwear styles, ranging from cardigans, jumpers and tank tops and then customise with various striping and badging options. Rawcliffes striping is available in a wide variety of colours. Then choose from several different striping positions including the cuffs, waist and neck line. The addition of an embroidery badge then makes the garment completely bespoke.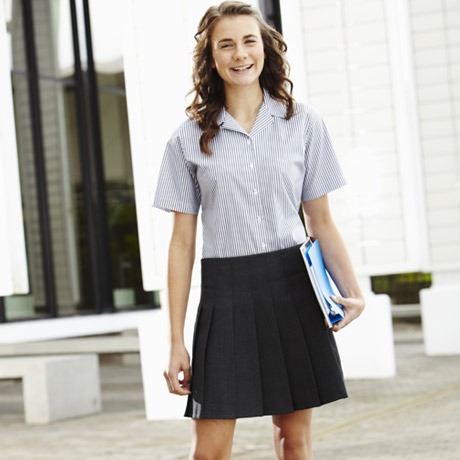 Girls Trousers & Skirts
Rawcliffes girls schoolwear is designed to live up to a girl's high expectations, with all garments tailored to provide a better girls fit. Designed using practical hard wearing fabrics and high quality stylish designs. Rawcliffes also include an internal waist adjuster on our stitch down pleat skirt and two pocket skirt, and an elasticated waist on our popular girls trousers.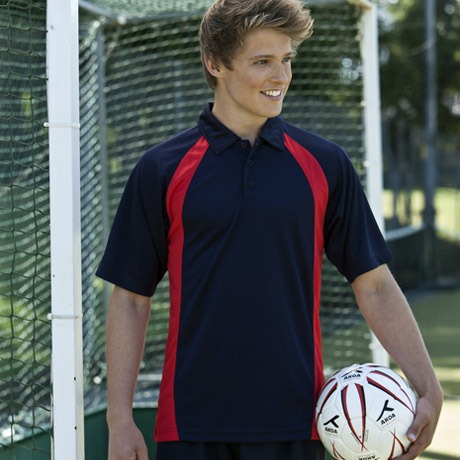 AKOA Sportswear
AKOA technical performance sportswear combines style and product performance. It offers an extensive range of stock products available for immediate despatch ranging from tops, shorts, outerwear, socks and tracksuit pants, all of which can be personalised with the addition of logos and text. AKOA also have a made to order sportswear range that enables you to choose your own colour options from a wide colour palette to give a more personalised look. With the addition of a sublimation range the design possibilities really are endless to give you a truly bespoke kit to help you stand out on the pitch.
I thought the trousers were a great material and looked a great shape and felt good quality…
Skirts have washed very well, stood up to school life with no problem and still look like new…
These trousers are perfect – they washed really well too and are fast drying which in this weather is exactly what you need. Megan surprised me and was so impressed with her trousers has actually been asking to wear them…
The pleated skirt is a nice design. With permanent style pleats that are easy to iron…